The summer season officially begins this month and we don't know about you, but there's something about hot days and starry nights that make everything seem a bit more magical. With the kids out of school and more people in the office taking vacation time, it is easy to linger a bit longer during your visits with your aging loved one. This summer, make the moments count even more by creating extra special memories. Not sure how to make a regular visit feel more exciting? We've got you covered with a few ideas.
Let's make this the summer you connect even more with your loved one.
Take Advantage of Unique Holidays
Did you know that June 10 is National Iced Tea Day or that July 14 is Shark Awareness Day? Neither did we until we did a quick online search for unique holidays to celebrate over the summer. Before you head over to your loved one's house for your usual visit, see if a unique holiday or observation sparks a creative idea for a meal or activity to do together. It might seem silly at first, but that is half the fun!
Get the Whole Family Involved
The summer means kids are out of school and home from college in most cases. Involve them with your visits to your senior loved one and make it an intergenerational event. Admittedly, it can sometimes feel difficult getting your kids to strike up a conversation with their older loved ones, especially if there is any cognitive decline or hearing challenges. However, if you have a shared activity planned for them to complete together, the pressure is off to have a deep conversation and the visit will be much more enjoyable for everyone.
Get in the Kitchen
Cooking, baking, and grilling are all excellent sensory stimulation activities. Chopping and mixing are excellent activities for fine motor work. Following a recipe is perfect cognitive practice. All in all, getting in the kitchen with your loved one is an ideal way to spend a visit together. Pick a family favorite recipe to try together and head to the market to pick up ingredients. Involve your loved one in all the steps even if you have to adapt the task a bit to meet their abilities and interests.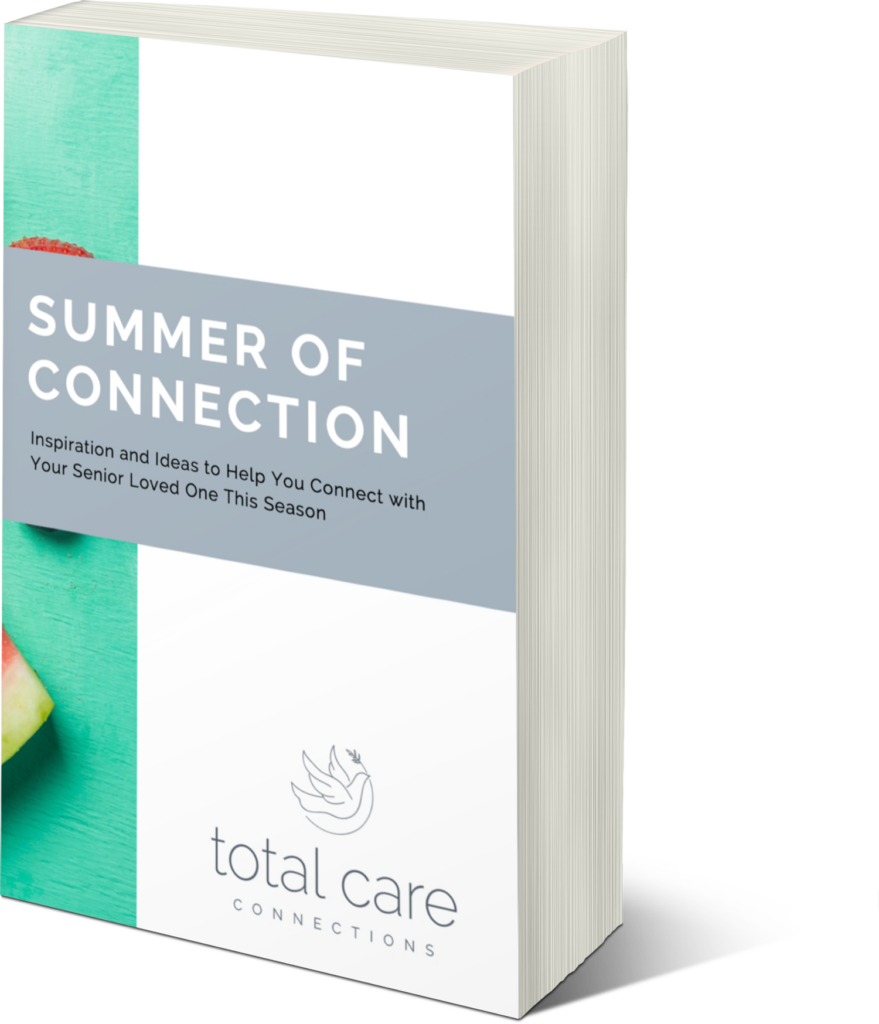 Step Into Nature
The summer features hot temperatures and bright sunshine, making it sometimes unbearable and unsafe to take your loved one out and about during most of the day. However, when dusk arrives, you can both enjoy more mild temperatures and venture out to explore. Take a drive to a favorite ice cream spot, enjoy a picnic outside, or look for constellations from the patio. No matter how you spend time outdoors, you will both get the benefits of fresh air and nature.
If you are looking for unique and easy ways to make summer feel extra special this year, the team at Total Care Connections has compiled a free resource to inspire you. Download our Summer of Connection eBook to get monthly activity ideas, recipes, intergenerational ideas, safety tips and much more.
Your summer just got a lot more interesting, and we can't wait to hear all about it.