When you visited your aging loved one over the holiday season, or when you caught up via video call to celebrate, did you find yourself feeling a bit worried or concerned? Curious if home care services in Arizona are the solution? You aren't alone. Here at Total Care Connections, we often hear from family members after the holidays who are a bit worried after noticing some cognitive decline, personal care deficits, or loneliness while spending extended amounts of time with their loved ones.
Here's the good news: home care services in Arizona are the ideal solution to living independently and safely at home for as long as possible. The challenge that sometimes arises? Starting the conversation with your loved one.
Benefits of Home Care Services in Arizona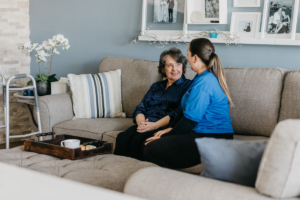 Home care services offer the support and assistance older adults need to feel their best while living at the home they prefer. However, there are more benefits than you or your loved one may realize:
Increased and consistent socialization through caregiver visits, which can decrease feelings of loneliness leading to

serious health complications

Feelings of empowerment and increased self-esteem thanks

Decreased falls

Fewer emergency room visits for medical crisis situations

Regular wellness checks

Fewer medication management mistakes or missed doses

Increased compliance for

medical follow-ups, therapy, and other recommendations

Better nutrition and diet

More peace of mind, and less stress or anxiety
Even with all the benefits that come along with home care, it can still feel intimidating when trying to find a way to bring it up to your aging loved one. 
Starting the Conversation
The best way to introduce home care services to your loved one is to simply start the conversation. We recommend bringing up a few of your concerns or observations but without making it about you. For example, saying "I'm worried about you falling at home since you seem to be unsteady when you get up from your recliner," is more focused on the senior while saying, "It would make me feel better if I knew someone was here to make sure you didn't fall" puts the focus on your feelings instead of their overall health.
When you bring up home care to your loved one, be prepared to need to bring it up again. This should be an ongoing conversation you have with one another. When the conversation gets heated or if your loved one becomes defensive, redirect it to something more positive and bring it up another day. You don't want to end your visit together on a negative note.
Involve your loved one in the process of deciding on a home care agency as well. This will empower them as they make their own opinions heard. At Total Care Connections, we are dedicated to being person-centered, which means we involve our clients when we develop their plan of care. We want to know more about their preferences as well as their goals so we can serve them better.
Learn more about our services by calling our Total Care Connections experts. We are happy to provide you with a free safety evaluation and learn more about your situation.